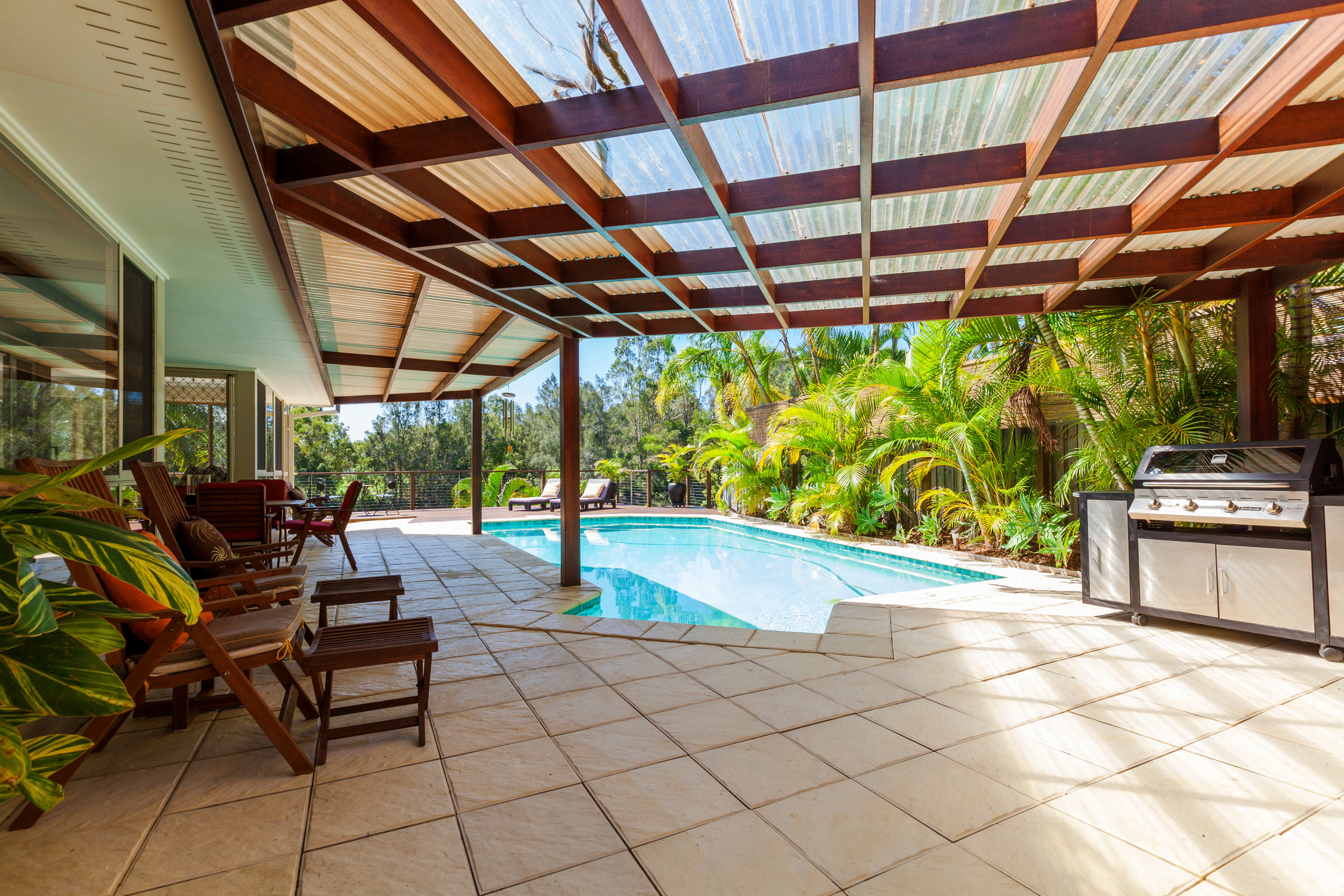 Pool Surfaces You Can Count On
Although concrete and wood come to mind first when considering pool decking options in Southern California, you have several other options that might be more beneficial for the climate. When choosing the right material for your inground pool, there are a few questions you need to ask. The most important include
"Can I walk barefoot on the deck comfortably?",

"How slippery is the material?"
"Does this fit my overall look?"
Concrete
Concrete is one of the most popular pool decking materials in the California area due to its affordability, durability, and ease of installation. However, concrete can be very slippery when it gets wet. It also doesn't hold up well to extreme conditions like direct sunlight or high humidity. However, there are ways to improve the safety of concrete pool deckings, such as adding texture or scoring, so keep that in mind when considering your options.
Wood
Wood pool decks are the most traditional option, and they will retain this classic feel for many years to come. It's also easier to match wood pavers or decking with wooden fencing and outdoor furniture than it is with concrete. However, wood pool decks can be more expensive than other pool decking options, and it's also more susceptible to decay. But with the proper care, wood can last a long time.
Stone Pavers
Stone pavers are a popular option because they look great, are durable, and aren't as slippery as simple concrete decking. These have a natural appearance that blends with most pool designs and offers flexibility when designing your backyard paradise. However, look for lighter natural colors if your pool is in direct sunlight. Darker stone paver shades can heat up quickly, making it difficult to walk in the hot sun with bare feet.
The most popular choice in San Jose is travertine. It stays cool, making it comfortable to walk barefoot all day around the deck and has consistent coloring that looks amazing. When choosing stone pool pavers, pay attention to quality. Low-cost options aren't always the best choice.
Flagstone
Although stone pavers and flagstones may not be the most budget-friendly option, they do have their own set of benefits. Stone pavers are aesthetically beautiful and slip- and heat-resistant, making them a more durable and safer choice for your pool. Additionally, flagstone is low-maintenance, which makes them more cost-effective over time. The durable decking option is the ideal option in Southern California.
Tile Pool Decking
Tile pool decking is more expensive than wood and concrete, but it's also more durable and doesn't require much maintenance. However, avoid using tile around pool stairs since the grout can become slippery when wet. For a similar material that's more slip-resistant, consider water-impervious porcelain tiles.
Each pool decking material has advantages and disadvantages depending on your individual needs. Prins Pools can install any pool decking you want for your outdoor paradise in San Jose and the surrounding areas. To see how the right pool pavers and other decking materials can complement your pool, contact Prins Pools today to get started with a free in-home estimate.