The Perfect Complement to Your Pool is a Spa
A Prins Pools spa is the perfect addition to your backyard dream. A spa can be used to help you relax after a hard day, a great swim, or anytime you just want to unwind and forget your worries. It can be great for sharing with that special someone, family or friends. Your spa can be used for entertaining, parties, and staying warm during those cold winter months. The hydro-therapeutic benefits of a spa cannot be overstated. Stress disappears, pain decreases significantly, and fitness increases as the benefits of heat, buoyancy, and hydromassage combine to restore your health and heal your body. Prins Pools offers many different options and custom designs to fit all your needs when you make the decision to add a spa to your existing or brand new pool.
If you have an existing pool without a spa, adding one to your pool will dramatically change the look and value of your backyard enjoyment and investment. Not to mention, Prins Pools can add some special water features to a raised spa and include some great scenic, security, lighting, and sound options.
Tile, Rock, Gunite…
Expert Landscaping
Safety gate and fencing
Top-of the-line LED lighting, security cameras, and all weather sound systems
You can even monitor your amazing new spa automatically from the comfort of your living room, or just about anywhere, utilizing a pool automation system and even an application on your smartphone, tablet or Ipad!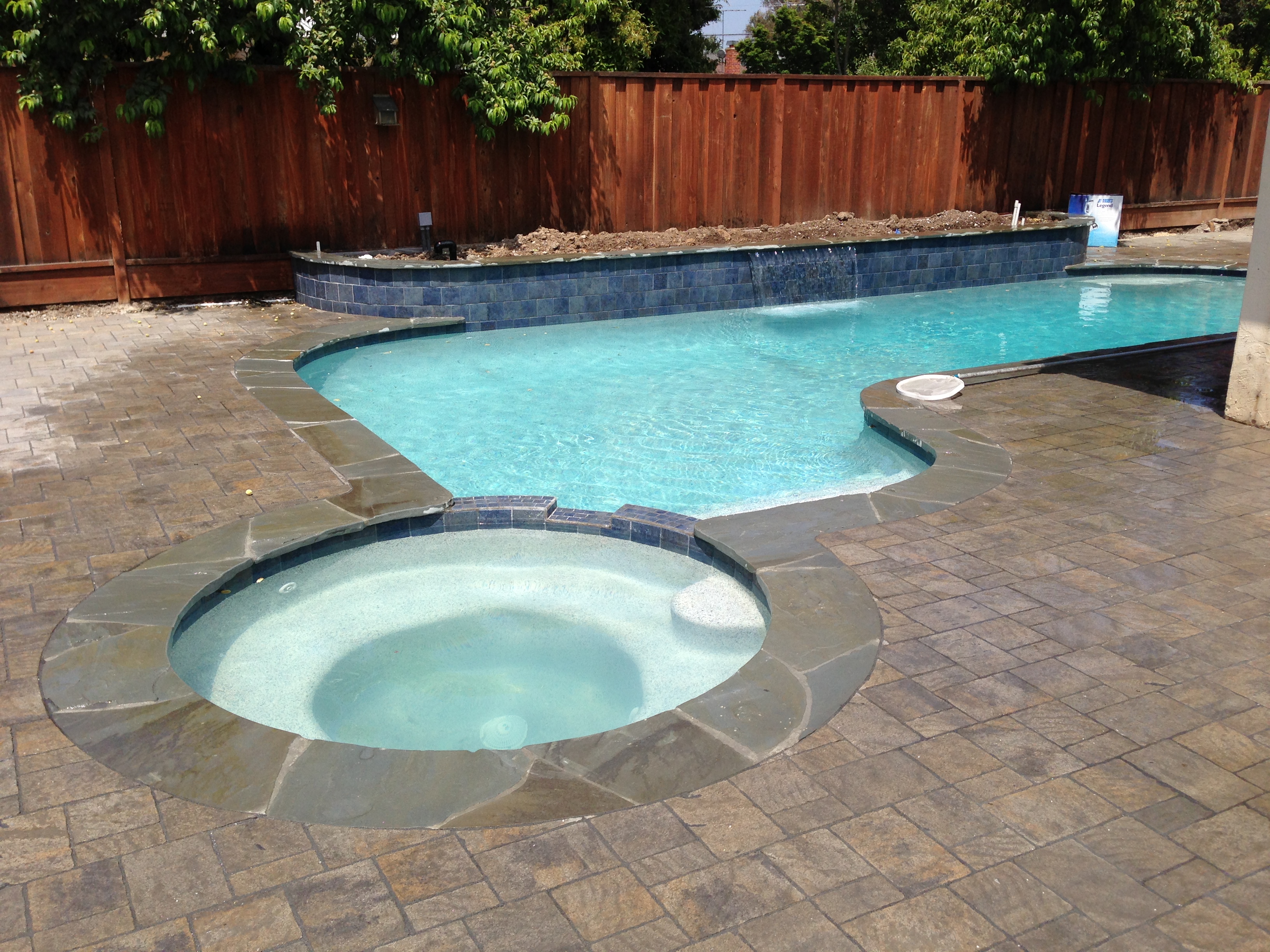 Health Benefits of a Spa Addon
Simple geometric shapes (squares, rectangles, circles, and ovals) are the best for complementing a landscaped setting and enhancing the appearance of your property. These are the types of pools generally found in suburban neighborhoods. But more recently consumers are opting for free form shaped pools and choosing custom designs when changing the shape of their current swimming pool. Consumers are also wanting to take their older larger pools and make them smaller to cut maintenance costs and give them more landscape room in their backyard for gazebos, fire pits and more. It is difficult to incorporate unusual pool shapes, particularly on residential lots, as they tend to compete with and overwhelm the rest of the landscape. However, odd shapes, like a bend in one side of a pool, may also be used to integrate natural features of your property, like special trees or boulders.
More than a feeling: Quality spa therapy heals. Since ancient times, people around the world have recognized the healing properties of hot water. Today, people recognize the benefits of a spa. The best spas, like those installed by Prins Pools, can promote health and wellness with hydrotherapy.
With a combination of high-performance jets and advanced seat designs, our spas move water in bold new ways, using state-of-the-art technology to deliver the following positive spa benefits:
Reduced stress, anxiety and less headaches
Better sleep and rest
Relief from muscle and joint soreness and nerve problems
Fewer symptoms of arthritis and back pain
Relaxation and to maintain health
Relief for sudden or long-lasting pain
People also use spas and hydrotherapy to treat many other illnesses and conditions, such as:
acne, stomach problems, various sleep disorders, colds, depression and more…
Spa therapy works. Sit in your new installed spa by Prins Pools, adjust the jet flow, turn down the lights, adjust the sound and feel all of the amazing results; a sense of calm and comfort, pain relief and rejuvenation.
Call 408.979.9595 to get a free quote today for your spa addon and see what sets us apart! You can use our Contact Form as well!