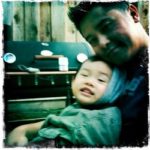 I LOVE MY PEBBLE POOL BY PRINS POOLS!! Incredible workmanship, attention to detail and outstanding value!

I was not planning on remodeling the pool this year, and was focusing on just the pavers and retaining wall, but since this paving contractor broke most of my pool tile, I decided to do the pool early and had to call some pool remodeling companies for quotes. After interviewing 5 different pool remodelers looking at their work, showrooms etc, I'm so happy I selected Prins Pools to remodel my pool. Bill was able to work within my budget and gave me the best deal out of the 5. He was not the cheapest, somewhere in the middle, but quality work i have received is worth more than i paid in my opinion!

Bill (The owner) pointed out several deficiencies when he came out to give me a quote on the retaining wall work that I had the paving company install, IE. water proofing the wall, bond grid, etc. making sure it was absolutely straight (the wall bowed out about 3/4 " in the middle) Bill picked it up immediately and stated he would not want to float a crooked wall with $4500 worth of mosaic tile because it should be straight to begin with. I agreed and had the pavers rebuild it from scratch! I knew right there and then Prins pools was the builder for me!

He listened to what I wanted and gave me honest feedback on what would and would not work and other very cool add on options that I didn't even know I wanted like a sun deck with umbrella holes. Great for kids to be in the water but only about a foot deep so parents can be right next to them w/o being fully committed to the water. Bill and his wife even invited us over look at their pool to get a feel of what pebble feels like and was patient as we made our selection. He even made us some sample pieces that we could use to match with our tile that we haven't selected yet.

I'm extremely particular when it comes to how things are done and wanted to see and be a part of every phase of the build e.g. demo, prep, finish work etc because I had such a horrible experience with this paving company, Prin's Pools was a breath of fresh air because I didn't feel like I needed to baby sit. His crew was amazing, very hard working and respectful to my property which was very important to me.

The first crew (demo/prep crew) did an amazing job on the mosaic water line tile we picked out and all the prep work.  To this day I'm amazed how they got 120 feet of 1″ mosaic tile so straight without every filling up the pool to check. There is a 1/8″ grout line that when the pool is filled up normally, the water sits ever so precisely in that 1/8″ gap for the entire 120 feet, this is the stuff I look at and drives me crazy if it's not done right. Prins pool guys blew me away with the quality of the workmanship. I tipped them all when they completed their part and the pool was not even done yet!

The plaster crew that did the pebble was just as good and worked on the Memorial Day weekend with Bill supervising the entire process all day on a holiday weekend. In the end we selected a Tahoe Blue rock with light Tropics Blue cement with blue and black glass with abalone shells for cool iridescent reflections. Bill was adamant about giving us a custom color and I have to say It's freakin awesome and everyone that comes over, their jaws just drop. I already have referred all my friends to get their pools done by Prin's pools.

If your thinking of having any pool work or installation done on your home, this is the  contractor you need.  I wanted to wait 6 months before I gave my review just in case something went wrong and I would need to change the story, but the pools still looks amazing with no issues with plaster coming off etc. The experience was wonderful at every level and we will be forever grateful to Bill and the crew for providing us excellent customer service and workmanship. Not to mention we have a beautiful end product to show off to all our friends and family.If you want honest, quality workmanship at a good value, call Prins Pool, you not be disappointed!